KINGS-RENTAL
Welcome to Audio Mixer Rentals
Kings-Rentals is a full Audiovisual services company that specializes in AudioVisual equipment rental in Miami and broward, professional mixers rental, powered speaker rental in Miami, DJ Gear rental, microphone rental, wireless mic rental, professional audio visual euipmetnt rental at fort lauderdale, Miami led lighting, Audio processors rental, sub woofer rental Fort Lauderdale, repairs, installations Miami & Broward the lowes rates 24 hours 7 days a week. Kings-Rental is your professional full service entertainment company specializing in all your events needs.
Kings Rentals are locate in Miami Florida and provide personal delivery of sound system rental, help you setting up and Pick up the sound equipment rental at all local venues by our experienced staff in cities of Miami, Kendall, Homestead, Doral, Hialeah, Miami, Beach, Aventura, Hollywood, Hallandale, Fort Lauderdale, Davie, Miramar, Pembroke Pines, Plantation, Brickell, Coral Gables, Coconut Grove, South Miami, Kendall, Sweetwater, Cutler Ridge, Downtown, Doral, Hialeah, Miami Beach, North Miami, North Miami Beach, Miami Lakes, Aventura, Bal Harbour, Pinecrest, Hollywood, Hallandale, Coral Springs, Davie, Tamarac, Lauderdale, Miramar, Oakland Park, Pembroke Pines, Plantation and more...
All deliveries are made by a technician and not lost by courier services.
For pricing or quotes please email at kingsrental@hotmail.com
NON-POWERED MIXERS RENTAL
# 1- XENYX 502 Mixer Rental
Got a solo gig at the local coffee shop? Need to make a quick public announcement? Simple sound calls for the simply excellent XENYX 502.
The 5-input, 2-bus XENYX 502 with XENYX mic preamp can accommodate either a dynamic or condenser microphone. The two-band British EQ is famous for its warm, musical sound. Play music between sets via the RCA CD/tape inputs and record your performance to an outboard recording device via the RCA outputs.
Schools, meeting rooms, coffee shops and more.. This mighty mite is a high-fidelity lifesaver.
* 5 CH Mixer * Use with any Powered Speaker.
$24.99 rental / day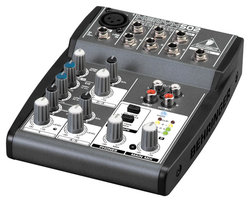 POWERED MIXERS RENTAL
Yamaha EMX620 200w 6-Channel Powered Mixer
6-input mixer, Built-in limiter prevents overload
Channels 1-4 have balanced XLR connectors with switchable pads
master Phantom power, plus balanced 1/4" inputs
Channels 5 and 6 include 2 unbalanced inputs each.
All channels have 2-band EQ
Independent monitor and effects sends
RCA connectors with separate level control for tape or CD players
7-band graphic for master EQ and 3 DSP effects
This is whether to go "active" or "passive" with your loudspeaker setup.
$65.00 Rental / day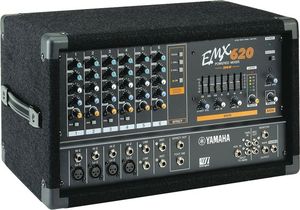 # 2- MX602A Mixer Rental
Our MX602A takes compact mixing a step further, offering audio quality and flexibility you'd never expect in such a miniscule package. With two mono mic/line and two stereo channels, all with great-sounding 3-band EQ's, a 2-track input and output, phantom power, phones output, balanced inputs and true main mix and control room outputs, it's equipped to handle the most demanding of situations where few inputs are required. And thanks to its ULN circuitry, INVISIBLE MIC PREAMPs and impeccable construction, it'll deliver professional results every time.
* 6 CH Mixer * Use with any Powered Speaker.
$29.99 Rental / day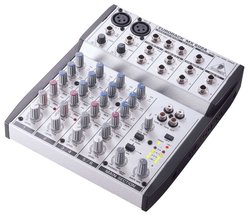 Behringer PMP960M 900w 6-Channel Powered Mixer Rental
Ultra-compact 450-Watt dual mono powered mixer
Revolutionary amplifier technology: enormous power, incredible sonic performance and super-light weight
Ultra-compact design at nearly half the depth and weight of conventional powered mixers
Mixer section features 6 mono channels plus separate tape returns
24-bit stereo FX processor with 100 awesome presets and multi-effects
Revolutionary FBQ Feedback Detection system
6 high-quality mic preamps with switchable +48 V phantom power for condenser microphones
Dual 7-band graphic EQ allows precise frequency correction of monitor and main outputs
Voice Canceller function removes singer's voice from recordings for Karaoke applications
Selectable double mono (main/main, main/monitor) or bridged mono amplifier operation mode
Speaker Processing function adjusts frequency response to match professional speaker systems
Standby switch mutes all input channels during breaks while background music is provided via tape inputs
Adjustable Aux input for connecting external signal sources
Internal switch-mode power supply, noise-free audio, superior transient response and very low power consumption
This is whether to go "active" or "passive" with your loudspeaker setup.
$69.99 / day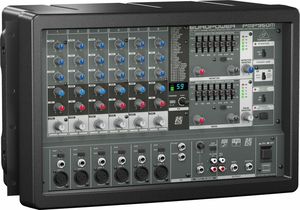 # 3- Mackie Pro FX12 Mixer Rental
The ProFX12 is the perfect choice for smaller performing acts, solo performers or for small venues that don't have the budget or space for a ton of outboard gear. The ProFX12 has everything needed to make your gig sound great and is really easy to operate. Simple is better. A utility mixer like the ProFX12 is an integral part of a ludicrously simple Mackie PA system that sounds great.
* 12 CH * Use with any Powered Speaker.
$49.99 Rental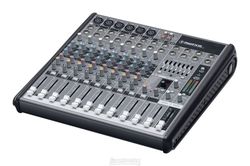 Gemini PDM02 DJ Mixer Rental with FX
PDM series -a line of multifaceted audio mixers designed to suit the needs of the performing DJ. With powerful features such as dual 10-band EQ, echo section, and auto-talk over, you'll have complete control over your sound, and with 7 RCA line inputs, 2 convertible RCA phono/line inputs, and 3 mic inputs, you'll never have to search for an extra set of jacks to plug into!
$29.99 Rental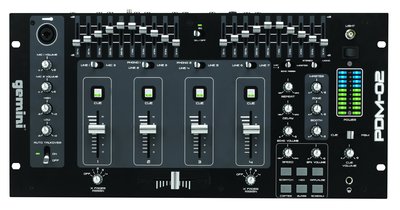 # 4- UB2442FX-PRO
Ultra-Low Noise Design 24-Input 4-Bus Mic/Line Mixer with Premium Mic Preamplifiers and Multi-FX Processor. This is the big kahuna of the whole UB Series. You get all the features you'd expect in an ultra high-quality compact mixer: 16 balanced high-headroom line inputs with dedicated gain controls on stereo channels 13-16, 10 new state-of-the-art, studio-grade IMP "Invisible" Mic Preamps, and an effective, extremely musical 3-band EQ with semi-parametric mid band plus switchable low-cut filter on all mono channels. There is also an integrated 24-bit digital stereo FX processor with 99 great-sounding VIRTUALIZER presets.
Because of their extensive and carefully thought-out routing possibilities, these consoles lend themselves equally to both live and studio use. The prime suspects are high-quality recording studios as well as MIDI-studio applications, small-size PA applications (solo entertainers, duos to quartets, small bands), video edits and similar setups.
Use with any Powered Speaker.
$79.99 / day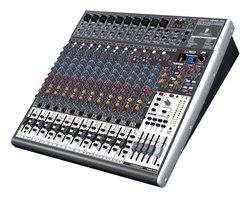 Mackie ProFX22 Mixer Rental
The ProFX22 is the clear solution for any medium/large venue that needs great sound, but doesn't have the budget or space for tons of outboard gear. To lose the rack, tools like compression and graphic EQ are crucial. The ProFX22 has everything needed to make your gig sound great and all the necessary channels to rock a large band. Plus, USB I/O lets you record the show or stream music straight from a laptop. The "Pro" in ProFX stands for Pro. Professional tools, rugged build quality, space-saving footprint…everything you need. The ProFX22 is loaded with 16 Mackie low-noise mic preamps, 3-band EQ, integrated "Gig-Ready" effects, precision 7-band GEQ and more.
$99.99 / day