KINGS-RENTAL
WELCOME TO UP LIGHTING
Kings Rentals specialize in LED up lighting rentals and super bright up lighting fixtures for all types of events in Miami and Broward. Our uplighting is capable of producing lighting 25x brighter than ordinary lighting. All uplights are programmed to match the colors of your decor or color of your choice. When you rent up lighting from us for your party, wedding, corporate event or anything else, you can be certain that you're getting the best.
When To Order:
We recommend ordering 15 to 30 days prior to your wedding to ensure availability. However, we can typically accommodate uplighting orders placed as little as 1 week ahead if needed.
We are locate in Miami Florida and provide a personal delivery, set up and Pick up service at all local venues by our experienced in Miami, Kendall, Homestead, Doral, Miami, Beach, Aventura, Hollywood, Hallandale, Fort Lauderdale, Davie, Pembroke Pines, Plantation, Brickell, Coral Gables, Coconut Grove, South Miami, Kendall, Sweetwater, Cutler Ridge, Downtown, Doral, Hialeah, Miami Beach, North Miami, North Miami Beach, Miami Lakes, Bal Harbour, Pinecrest, Hollywood, Hallandale, Coral Springs, Davie, Tamarac, Lauderdale, Miramar, Oakland Park, Pembroke Pines, Plantation and more...
We offer beautiful 6 color mixing led up lighting rental at prices that you can afford.
All deliveries in Miami and Broward are made by a technician and not lost by courier services.
To booking kingsrental@hotmail.com Call Now! 786-541-4892
UP LIGHTS RENTAL IN MIAMI AND BROWARD
L.E.D Up lighting Rental Packages
We rent professional-grade RGB LED up-lights and RGBAW-UV Wireless LED uplights.
We are the ONLY lighting rental company that offer this kind of lights for rentals in South of Florida. Unlike other types of uplighting, LED uplights are energy efficient and do not get hot or blow the fuses. The Uplighting is especially useful where in some Hotels or other places there are no decorations allowed in the walls,or if that event is outdoors and there is just a little or no ambient light or an area that needs to be made to stand out from its surroundings and bring to life your theme event.
UPLIGHTING RENTAL SERVICES IN MIAMI AND BROWARD
Battery LED Up Light Rental
The Chauvet LED Up light (splash Jr.) is a full RGB color mix PAR can, made up of 86 highly efficient, super-bright LEDs. This 4-channel DMX-512 controllable LED wash light can features red, green and blue color groups (44 red, 21 green, and 21 blue diodes). Each color's intensity can be controlled individually to create a large variety of colors. The Chauvet LEDsplash Jr. can operate in standalone and master/slave modes in addition to DMX.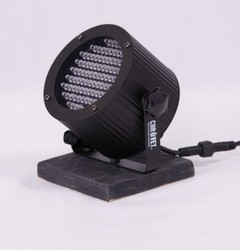 RENT OUR UP LIGHTS PACKAGES AND SAVE MONEY
UP LIGHTING ECONO PACKAGE RENTAL

This up light package is perfect for anyone on a budget.
INCLUDES:
- (6) LED Up Lights Rental Par 64
- (1) DMX Light Controller + DMX Transmitter
- (6) 25' Power Cords
- Color Selection - Any color scheme.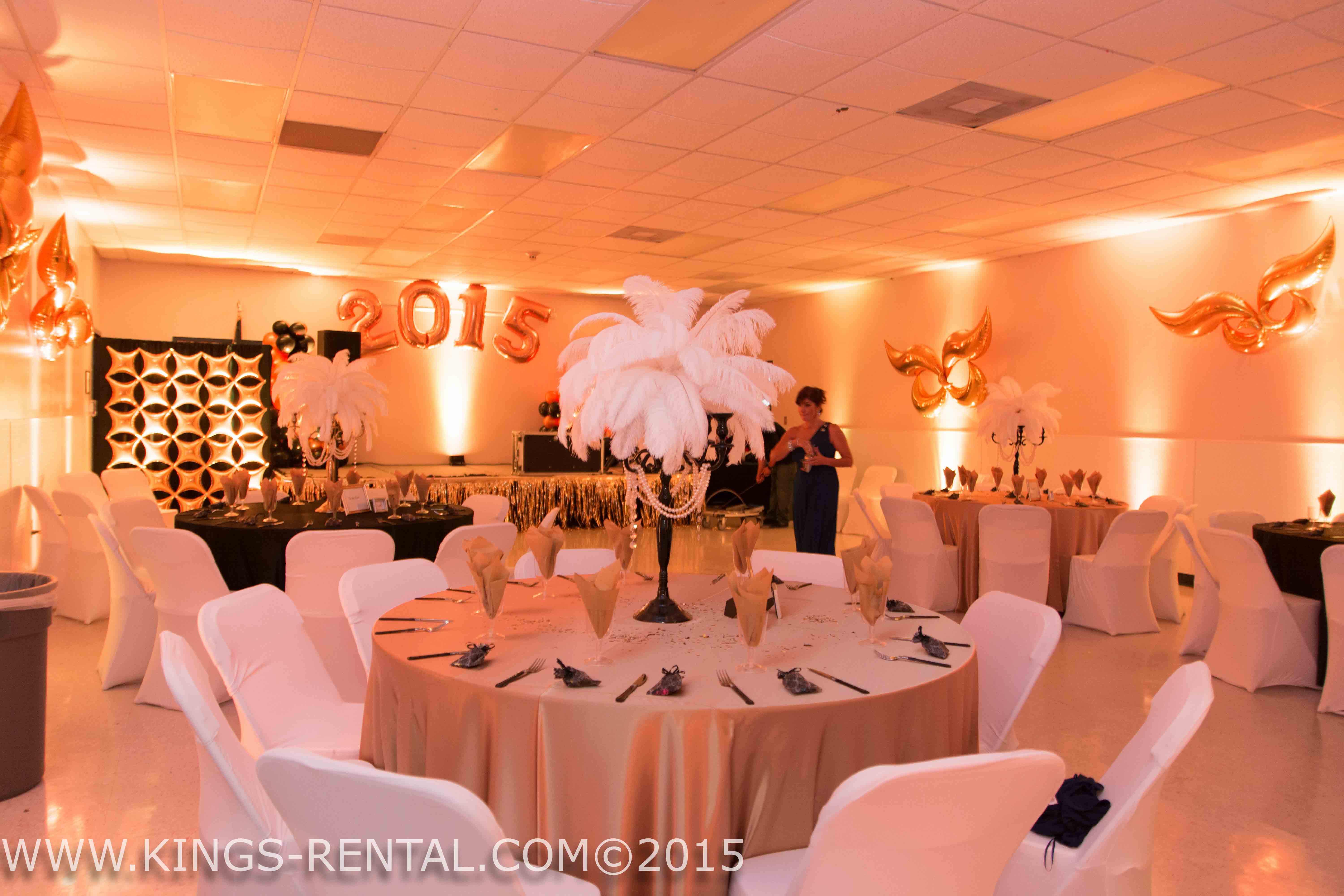 SMALL UP LIGHTS ARE GREAT ON TABLES OR UNDER TABLES
UP LIGHTS RENTAL LED SLIM PAR 64
The Chauvet Slim EZ PAR 64 is a Battery Powered RGB + A LED PAR and most used in events in Miami, it's housed in a casing that is only 2" thick, which allows it to go where other PAR cans don't fit. Powered by 108 red, green, and blue LEDs, the LED PAR can offers 3- or 7-channels of DMX control. It also provides static colors and red, green, blue color mixing with or without a DMX controller. Built-in automated and sound-activated programs operate in either master/slave or DMX mode. Other option is the Chauvet SlimPAR 56 DMX PAR AC powered can also features a variable speed pulse effect and a double-bracket yoke that can also act as a floor stand, so it's no more use for the wood base.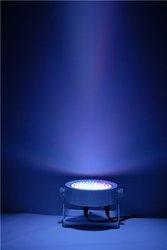 BATTERY POWERED UP LIGHTS GREAT FOR COLUMS.
UP LIGHTING PLUS PACKAGE RENTAL

This up light package is Great for a Medium Size Room.
INCLUDES:
- (10) LED Up Lights Rental Par 64
- (1) DMX Light Controller + DMX Transmitter
- (10) 25' Power Cords
- Color Selection - Any color scheme.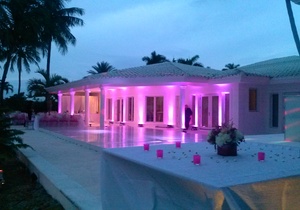 WEDDING UP LIGHTING, PARTY UP LIGHTING MIAMI & BROWARD
HOT ! You wont find this light elsewhere.
WIRELESS UP LIGHT RENTAL- SLIM PAR 64
Kings Rentals presents the NEW LED Par 64 RGBAW-UV features powerful 10mm with 6 colors, Red, Green, Blue, Amber, White and UV LEDS making this fixture extremely versatile. LCD display, 9 dmx chanels, sound activated, Wireless DMX 2.4 ghz, With the flat design and Fliker free the U-Par is easy to set up and is perfect for uplighting. This fixtures has very smooth dimming, and electronic strobing. It has custom colors built in as well as stand alone settings. Depending on which setting you are in (Slave, Master, Sound, DMX).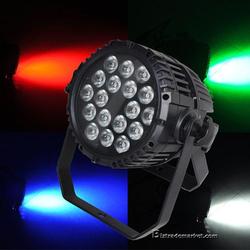 Up lights Rental any color in the Rainbow.
UP LIGHTING PREMIUM PACKAGE RENTAL

This Up light package is perfect for a Medium Room.
INCLUDES:
- (15) LED Up Lights Rental Par 64
- (1) DMX Light Controller + DMX Transmitter
- (15) 25' Power Cords
- Color Selection - Any color scheme.
UP LIGHTING DELUXE PACKAGE RENTAL

This Up light package is perfect for a Large Room.
INCLUDES:
- (24) LED Up Lights Rental Par 64
- (1) DMX Light Controller + DMX Transmitter
- (24) 25' Power Cords
- Color Selection - Any color scheme.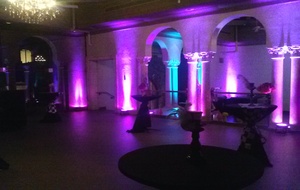 PROFESSIONAL LIGHTING EQUIPMENT RENTAL IN MIAMI
All weather LED Up light is used for Outdoors events, Club, Dj shows, Home party, Ballrooms, Bands, Stage Shows, bar, etc. It use the latest LED technology (RGB + AW), Adopt 15 DIodes of 18Watts each for a total of 230W, high power leds, high brightness and low power consumption, bright color and so on.
Features:
9 Channel DMX-512 LED PAR64 light
Built-in automated programs via stand alone mode by Menu Button
4 Dight Digital LED Display Very low power consumption, high output
With fan, Low noise, good heat dissipation effect.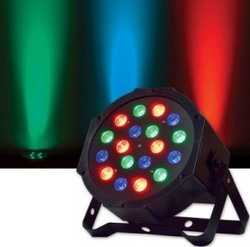 THIS EVENT LIGHTS ARE THE #1 CHOICE IN AMERICA.
Par Can 38 Halogen 150w Up lighting Rental
The par cans have been the standard to create the uplighting effect for weddings and receptions, can be used indoors - outdoors decorations and bring to life all the themes. The lighting equipment Rental include either the Black or the aluminum housing with lamp, a Black medium screw base, and Color gel of Your Choice and power extension cable.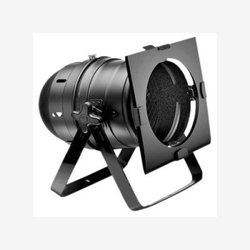 LED UP LIGHT PAR 64 SUPER HIGH POWERED.
54 x 3W Par 64 LED Up Light can operate in Stand-Alone, Master/Slave and via DMX-512 control utilizing 8 DMX channels, full RGBW color mix par can made up of highly efficient and double-sized bright LEDS. All Red, Green ,Blue and White LEDs can be controlled separately allowing the creation of an unlimited range of colors.
Built-in sound activated programs via master/slave
Ultra bright and ultra large 3W LEDs
Super heavy duty can : Aluminum Alloy.