KINGS-RENTALS
UV LIGHT RENTAL - BLACK LIGHT RENTAL
Our Black lights rental for glow parties is routinely mantained and tested prior to delivery Miami, Broward or Homestad. We take that extra precaution to ensure quality and service.
The UV LED ECO BAR PLUS Use powerful LEDs to produce an intensely brilliant black-light aura over a wide area, making it a great Glow wash-type effect for stage performances, theatrical productions, or any special effects installation. The UV radiation in from a black light is nearest in wavelength to visible light with low frequency and therefore relatively low energy. Ultraviolet radiation is invisible, but a small fraction of visible light passes has a dim purple or violet glow. The purple glow of a black light is not the UV light itself, which is invisible, but visible light which escapes being filtered out.
Kings Rentals provide personal delivery of UV Black lights rental, help you setting up the lighting equipment rental at all local venues by our experienced staff in cities of Miami, Kendall, Homestead, Doral, Hialeah, Miami Beach, Aventura, Hollywood, Hallandale, Fort Lauderdale, Davie, Miramar, Pembroke Pines, Plantation, Brickell, Coral Gables, Coconut Grove, South Miami, Kendall, Sweetwater, Cutler Ridge, Downtown, Hialeah, North Miami, North Miami Beach, Miami Lakes, Aventura, Bal Harbour, Pinecrest, Hallandale, Coral Springs, Davie, Tamarac, Lauderdale, Miramar, Plantation and more...
All deliveries are made by a technician and not lost by courier services.
To booking please email at kingsrental@hotmail.com Call 786-541-4892
UV light Rental for your Show Miami and Broward
HIGH POWERED UV BLACK LIGHT RENTAL
Eco UV Bar Plus
Specifications:
• High output UV Bar with 18x 3-Watt UV LEDs
• Great for performance stages, theatrical and special effects
• long life LED, low heat output, & no moving parts
• Beam angle: 120 - Wavelength: 390-410nm
• brackets for mount or to set on the floor (wall washing)
• Power 60W - On/Off switch on rear panel
• AC Power: 100V - 240V AC
• Dimensions 39.5" x 2.5" x 4.5" - 5.3 lbs.

LED UV LIGHT RENTAL $29.99 /day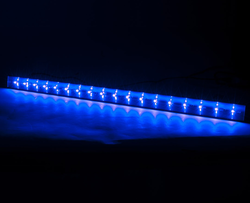 Black Light Rental for your Glowing Event
OUTDOOR LED UV BLACK LIGHT RENTAL
UV LED Wash Flood Light Outdoor
Specifications:
• Bright output UVt 16x 395mm 2-Watt LEDs
• Great for performance stages, outdoors productions and special effects long life LED,
• Beam angle: 120-D - W: 395nmlow
• Low heat, low power, no moving parts
• includes mounting bracket or to set on the floor
• Power 32W - AC Power: 100V - 240V AC,
• Dimensions: 7.087" (w) x 5.512" (h) x 4.331" (d)
• Life Span: 60,000 Hours.
LED BLACK LIGHT RENTAL $29.99 /day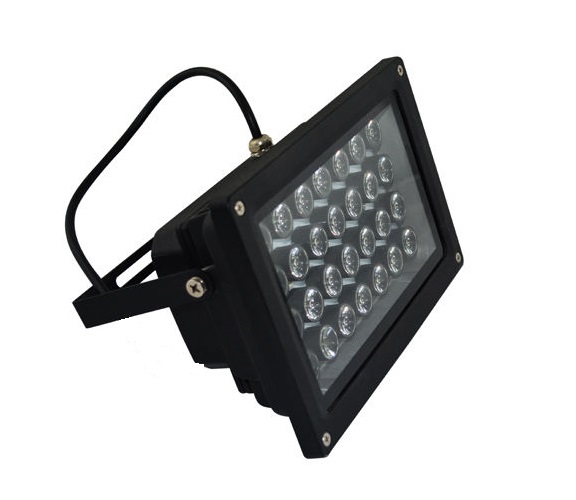 Glow your party with LED Black lights rental
UV LIGHT RENTAL SET
1. High powered Black light rental $29.99 /day
1. T tripod lighting rental $20.00 /day
1. Power cord 50' $ 3.00 /day
TOTAL = $50.00 /day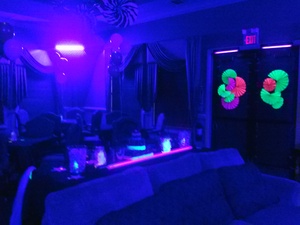 Add an effect to your Party with a LED UV light rental
BLACK LIGHT RENTAL SET
1. High powered Black light rental $29.99 /day
1. T tripod lighting rental $20.00 /day
1. Power cord 50' $ 3.00 /day
TOTAL = $50.00 /day