KINGS-RENTALS
Welcome to Video Switchers Rentals
Selecting the right swither
Kings Rentals provide a Multiple input, multi-format switchers for a live production that provide device control and advanced audio capabilities, High performance scaling of standard definition, HDTV, and computer-video sources with true seamless switching for projectors, TV's and Video wall. All deliveries are made by a technician and not lost by courier services.
For more info or booking please email at kingsrental@hotmail.com
Call Now! 786-541-4892
Presentation Switchers Rental Miami and Broward
Extron VGA Switcher Rental
The SW VGA Series are VGA switchers of 2 inputs or 4 inputs. They are designed for applications where multiple high resolution computer video or HDTV component video signals must be switched to one or two displays. The SW VGA Series switchers rentals are ideal for small to mid-sized applications where high resolution switching is needed.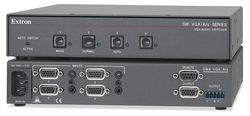 Conference Streaming Video switcher rental
Black Magic 4 Input Video Switcher Rental
Blackmagic design atem mini hdmi live stream switcher for Rental.
ATEM Mini
Affordable live switcher with 4 standards converted HDMI inputs, USB webcam out, audio mixer with EQ and dynamics, 2D DVE, transitions, green screen chroma key, 20 stills for titles and much more!
ATEM Mini Pro
Powerful model adds recording to USB disks in H.264 format, a built in hardware streaming engine for YouTube Live, Facebook, Twitch and more, plus multiview to see all cameras on a single monitor.
ATEM Mini Pro ISO
This model adds recording of 5 streams including all input as clean feeds for editing, plus a DaVinci project file for fast edit turnaround and Blackmagic RAW file relinking for finishing in Ultra HD.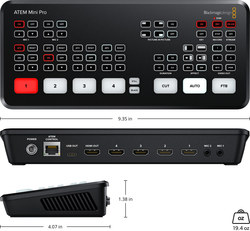 Extron DVS 204 Video Scaler Rental
High performance digital video scaler
Inputs: Composite on BNC; composite, S-video, or component video on BNCs; S-video on 4-pin mini DIN; optional SDI configurable on any of the inputs
RGB pass-through input: one 15-pin HD
Outputs: RGB or component video on 15-pin HD or BNCs
Scales composite video, S-video, component video, and optional SDI with RGBHV pass-through
59 output rates from 640x480 to 1400x1050, including HDTV 1080p/60 — The DVS 204 provides 59 user-selectable computer-video output rates, up to 1400x1050 and including HDTV 720p, 1080i, and 1080p/60.
Dual RGB or component video outputs — Two simultaneous outputs are provided for driving two display devices.
Patented 3:2 and 2:2 pulldown detection — Advanced film mode processing techniques which help maximize image detail and sharpness for NTSC or PAL sources that originated from film.
Quad standard video decoding — The DVS 204 uses a digital, four-line adaptive comb filter to decode NTSC 3.58, NTSC 4.43, PAL, and SECAM for integration in systems worldwide.
Blackmagic Design ATEM
HD Live Production Switcher
If you're working with live production A/V, then Blackmagic Design's switcher lets you take control. There is nothing like the adrenaline of live events swiching cameras, DVD Players, Computers and More..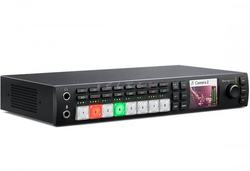 Media Presentation Switcher Rental
The Extron MPS 112 and MPS 112CS Media Presentation Switchers can switch between multiple VGA, S-video, and composite video signals, enabling presenters to incorporate and access a variety of different sources. Direct switching of multiple video formats to attached displays provides an ideal solution for many conference room and classroom environments. Together with a wide range of audio features, the MPS 112 can accommodate virtually any presentation environment.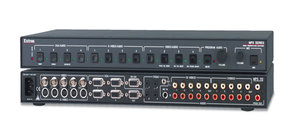 HDMI Switcher Rental
The Extron SW HDMI Series are two and four input HDMI switchers. They support HDMI specification features including data rates up to 6.75 Gbps, Deep Color up to 12-bit, 3D, Lip Sync, and HD lossless audio formats. The SW HDMI Series switchers are HDCP compliant and support all HDTV rates including 1080p/60, 2K, and computer-video signals up to 1920x1200. They feature EDID Minder®, which maintains continuous EDID communication with connected devices and ensures that the HDMI sources power up properly and maintain correct video output. The SW HDMI Series provides automatic input cable equalization up to 50 feet for 1080p/60 with 8-bit color on Extron HDMI Pro Series cable.