KINGS RENTALS
STRING LIGHTS RENTAL IN MIAMI AND BROWARD
There are many possibilities for your Lighting Decoration, however, on such an important day should not take unnecessary risks and trust professionals. Kings Rentals has a wide experience in weddings and celebrations.
One of the most special events in life is a wedding is a unique moment that should be planned taking care of every detail to perfection, a key aspect of a wedding is the decoration has to be well used in the ceremony and the reception using details, flowers, fabrics, and Lighting that is the most important thing which gives life to your theme.
We gothrough an initial study of the venue and the characteristics of space, we configure a solution perfectly adapted to your project. Our team offers a comprehensive solution, with diferent options including the String lights rentals, Fairy lights rental, UP Lights Rental, Paper lanters, Gobo Projection Lights for your monogram, DJ Lights Rental, and more.. so you do not have to worry about your event lighting decoration.
Do not let your lighting decoration of your wedding in the hands of amateurs, trust experienced professionals in the lighting services sector of Miami and Broward. Enjoy the day that you has been waiting for so long, knowing that the lights rentals are in good hands.
We provide personal delivery by our Lighting experienced staff in Miami, Doral, Hialeah, Miami, Beach,,Kendall, Coral Gables, Coconut Grove, Homestead, South Miami, Miami Lakes, Aventura, Hollywood, Hallandale, Fort Lauderdale, Davie, Miramar, Plantation, Davie, Tamarac, Pembroke Pines, and more...
All deliveries are made by a technician and not lost by courier services.
For more info or booking email at kingsrental@hotmail.com Call 786-541-4892
THE GLOVE STRING LIGHTS RENTAL
Kings Rentals offer diferent options of String Lights rentals that you need for your wedding or Event in Miami or Broward, taking care of all aspects of your event theme that perfectly fit your needs.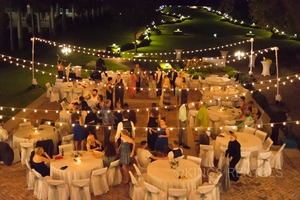 GLOVE STRING LIGHTS AT WEDDING EVENT
We like to collaborate with our customers to find the right equipment for your Event. Therefore, please contact us we answer and see all your questions. Sure our offer will meet your expectations.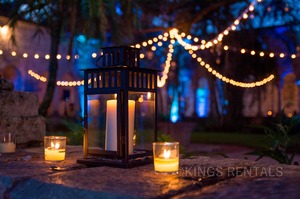 ADD A WHITE PAPER LANTER RENTAL
Visit our Social Pages for more pictures and Videos of our Events and Equipment rental.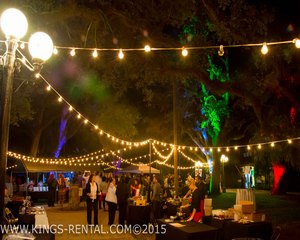 BISTRO LIGHTS RENTAL IN MIAMI AND BROWARD
Therefore it is important to have a detailed decoration accompanied with a Great lighting for a good impact on your guests and family.